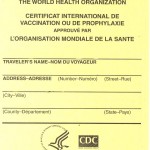 The Bolivia yellow fever vaccination requirement (to carry an international vaccination certificate) used to be mandatory for all areas of travel within Bolivia, but now travelers only need the yellow fever vaccination card if they are over 12 months of age and traveling into the area known as the Beni.
For U.S. citizens, this yellow card must also be presented with your Bolivia Visa application.
Three Tips for Yellow Fever Vaccination Requirements for South America
The yellow fever immunization is not effective for ten (10) days which is why it is recommended that you receive your shot 10-14 days prior to travel.
The yellow fever certificate is good for ten (10) years.
Keep a photocopy of your shots in a safe place. While photocopies are not accepted, if you ever lose your yellow fever certificate, it will be easier to get a replacement.
Where to Get the Yellow Fever Vaccine?
Three tips to know before you purchase the yellow fever immunization:
Yellow Fever prices in the United States ranges so it's worth a few phone calls to shop around. The best I found was $113 (shot alone) at a walk-in clinic to $285 ($217 for the shot + $68 exam fee).
Some offices give discounts for a second or third person so if traveling in a group, it may help for everyone to get the yellow fever vaccine at once.
Uneasy about shots? Ask the nurse if you can lay down on the table. This is a small needle and a one time shot. (No need to go back for 10 years.)
You can find yellow fever areas showing maps of locations at risk for Yellow Fever
Can I Skip the Yellow Fever Vaccine?
[bannerzon align="right" banner_id="4855″]There are cases when you can skip the vaccine and obtain an exemption certificate instead. Exemptions might be due to age (over age 60) or some other medical health reason where doctors recommend you do not receive the vaccine.
You can also find numerous posts on the Internet about "taking a chance" or "…never been asked for the International Certificate of Vaccination," but why take the chance? The vaccine is not cheap, but it is also not unaffordable. Shop around a little, get the best price, and take a safe unstressful travel trip to South America.
Have you ever been asked to show your International Vaccination Certificate for Yellow Fever?