Our Guatemala calendar is offered in several sizes for your wall and even allows customization to make it the perfect gift. Find 12 months of unique inspirational photos of ruins, lakes, volcanoes, foliage and people.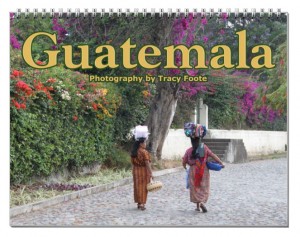 Guatemala Calendar
This item qualifies for
Free Shipping with Amazon Prime
Click Here to Check Availability for FREE Shipping
or
Click Here to Customize this Calendar
From the extraordinary ruins of Tikal to the volcanoes towering over lakes to the indigenous people hustling about the gorgeous Guatemalan markets, what is there not to like?
Escape to Guatemala each month as you turn pages revealing a unique culture and land of adventure.
Guatemala Wall Calendar Photographic Descriptions
Guatemala is often referred to as the jewel of Latin America.
January: the famous "chicken bus" in Panajachel
February: Tikal Temple II
March: Ariel view of Tikal
April: Jaguar Temple I in Tikal
May: Lake Atitlan Volcanoes
June: Lake Atitlan boats carrying baskets of fruits and vegetables
July: Indigenous Solola market above Panajachel
August: Indigenous political gathering in San Marcos Laguna on Lake Atitlan
September: the amazing Antigua Market
October: Antigua's San Francisco Church damaged by earthquakes
November: 7th Avenida Norte in Antigua
December: Calle del Arco in Antigua
Guatemala Wall Calendar Features
Available in three sizes – Standard, Small, and Huge
(Example: Size 11″x17″ hung on the wall has pages that measure 11″ x 8.5″)
Full bleed high quality dynamic color printing,
100 lb cover weight high gloss paper, wire-o bound,
January – December or choose your own optional start and end dates,
Preview of the following year,
Choose from 13 unique styles for dates and holidays
Wire-o binding in 7 different colors.

Bulk Quantity Discounts

begin upon ordering 2 or more calendars
About the photographer
Tracy Foote grew up in New York City but spent her childhood summers at camp in the Adirondack Mountains in upstate New York. There she developed a fondness of nature, the outdoors, and mountain climbing. Her love of South America began in high school Spanish class and grew throughout college where she minored in Latin America Area studies. Today she shares her passion of Guatemala by creating the perfect gift with her photographs in the hopes that everyone will have the inspiration and opportunity to visit.
Alternate Gift Idea: Tikal Calendar
More Guatemala Calendar Gift Ideas found Online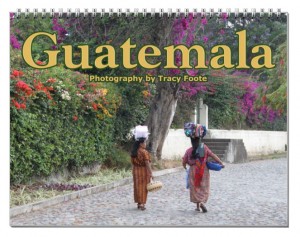 Guatemala Calendar
This item qualifies for
Free Shipping with Amazon Prime
Click Here to Check Availability for FREE Shipping
or
Click Here to Customize this Calendar