Our flower calendar is fully customizable to make a unique personalized gift. This nature calendar captures the foliage found in the Sacred Valley of Peru.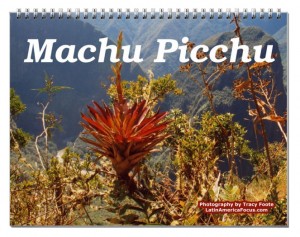 Machu Picchu Flower Calendar
This item qualifies for
Free Shipping with Amazon Prime
Click Here to Check Availability for FREE Shipping
or
Click Here to Customize this Calendar
When planning my trips, I always add at least a half an hour to the time stated in travel books. If it is an hour climb, that means at least an hour and a half for a climbing photographer.
Hiking the trails along the ruins of Pisac and Machu Pichu is a photographer's dream. Some of my favorite images are displayed in this calendar.
Our Nature Calendar Features
Our Calendars have a variety of options:
Available in three sizes – Standard, Small, and Huge(Example: Size 11″x17″ hung on the wall has pages that measure 11″ x 8.5″)
Full bleed high quality dynamic color printing,
100 lb cover weight high gloss paper, wire-o bound,
January – December or choose your own optional start and end dates,
Preview of the following year,
Choose from 13 unique styles for dates and holidays
Wire-o binding in 7 different colors.

Bulk Quantity Discounts

begin upon ordering 2 or more calendars
Flower Descriptions by Month
January: 4 featured photos of Machu Pichu Ruins and foliage
February: Blossoms found along the Machu Pichu trail
March: Gorgeous red flower sprouting from banana palms
April: Unique orange closeup (flower found amongst Pisac Ruins)
May: Lace-like pink flower extending toward the sun
June: Don't brush against this delicate nestle of red stemmed thorns
July: A lonely catus grows strong near the summit of Huayna Picchu
August: A cloudy rain forest creates a mystical feel where hidden blossoms extend 6 inches long around the next turn
September: Tiny clusters of flowers setting to seed create pompoms of yellow along the climb up Putucusi
October: Remember to look down in the shadowed forest on the bank of the Putucusi climb. You might catch a glipse of purple fallen from a tree.
November: As you stop to breathe in oxygen at high altitude, bend down and try a close-up shot of more pink blossoms.
December: Look up. Has the sky ever been so blue? And look, there's another splash of pin extending above your head.
About the Photographer
Tracy Foote spent her childhood summers at camp in the Adirondack Mountains in upstate New York where she developed a love of nature, the outdoors, and mountain climbing. Her passion for conservation grew as she traveled and explored many ruins in Latin America. Using her photographs from Peru, she hopes to inspire enthusiasm for travel and create some unique gift ideas for someone special.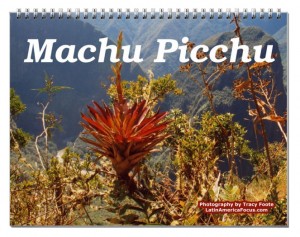 Machu Picchu Flower Wall Calendar
This item qualifies for
Free Shipping with Amazon Prime
Click Here to Check Availability for FREE Shipping
or
Click Here to Customize this Calendar
Other Peru Gift Ideas