Our Peru Wall Calendar makes a wonderful gift with images of Lake Titicaca where you'll find the famous floating reed islands of Uros, Taquile and Amanti (Amantani) where the Aymara indian culture thrives.
Watch on YouTube or Subscribe to us on YouTube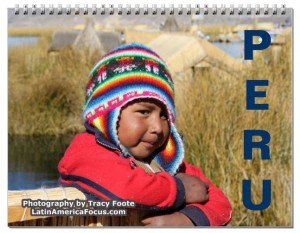 Puno Peru Wall Calendar
This item qualifies for
Free Shipping with Amazon Prime
Click Here to Check Availability for FREE Shipping
or
Click Here to Customize or buy bulk order discounts
Hike to Condor Hill for a spectacular view overlooking the city of Puno with Lake Titicaca, the highest navigable lake in the world, extending out to Bolivia in the distance.
Visit Peru every month of the year by turning each calendar page to reveal a new scene. Some favorites are: November with the ruins of Silustani and December with the cover image of a young Peruvian boy.
Images by Month
January: City overlook (mirador) at Condor Hill
February: A view from Lake Titicaca, looking back off the boat upon the city of Puno
March: Approaching Uros Reed Islands
April: Two indians amongst drying reeds
May: An additional scene of an island against the blue waters of Lake Titicaca
June: A young girl looks off a reed boat at another boat in the distance
July: A Puno fisherman returns home amongst the reeds
August: An Aymara women sits embroidering with a gorgeous clear blue sky overhead
September: A fan of reeds drying in the sun
October: Aymara children play and fix their hair on the reed island
November: The ruins of Silustani
December: A close up of the young boy featured on the cover
About the photographer
Photographer, Tracy Foote's grew up on the west side in Manhattan, New York. Beginning age 8, she escaped the city to spend her summers hiking the Adirondack mountains in upstate NY where she grew a love for the outdoors. After traveling throughout South America, she uses her photography to help others find the perfect Peru gift for friends, family, tour guides, and more.
This gift may inspire the recipient to visit this amazing place.~
See inside
Uros Islands – Peru Calendar Features
Available in three sizes – Standard, Small, and Huge
(Example: Size 11″x17″ hung on the wall has pages that measure 11″ x 8.5″)
Full bleed high quality dynamic color printing,
100 lb cover weight high gloss paper, wire-o bound,
January – December or choose your own optional start and end dates,
Preview of the following year,
Choose from 13 unique styles for dates and holidays
Wire-o binding in 7 different colors.

Bulk Quantity Discounts

begin upon ordering 2 or more calendars
(choose the Customize option to purchase bulk discounts)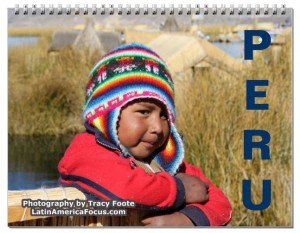 Puno Peru Calendar
This item qualifies for
Free Shipping with Amazon Prime
Click Here to Check Availability for FREE Shipping
or
Click Here to Customize or buy bulk order discounts
Travel to Puno, Peru
Browsing the internet lead us to believe there would not be much in Puno. Travelers discuss being grateful for their hotel rooms since the city had little to offer. We were pleasantly surprised and actually wished we had time for an additional day in the area.
What to do in Puno
Visit the Uros Islands
Visit Taquile Island and consider spending the night
Side trip to Sillustani
Side trip to Chucuito
Climb to Condor Hill 4017 meters above sea level
Climb or take a Taxi to the Puma statue overlooking Puno
Book early on Lan Peru.
Hotels in Puno – Where to Stay
First choice Puno Plaza:
We made all reservations efficiently by internet and paid upon arrival. Great wonderful staff at the desk. No question was unreasonable. They assisted with directions to hiking to the condor and also a statue nearby with city views. Free internet downstairs, 2 computers – never had to wait. Wonderful breakfast of scrambled eggs with ham, a variety of juices, breads, tea, cheese. etc. We had triple room, flat screen TV in the room (if that matters to you), double sink bathroom, each with hot water in the sink, heater in the room – included in price, huge beds and great comforter with additional blankets. The print boarding passes for 1 sol per page.
Cons: Unfortunately we were there on a Saturday night and we did experience a little noise despite being three floors up. We later found out there is a building on the plaza which is rented for parties. However, Sunday, all was quiet and we slept soundly. All in all, even if staying on a Saturday, I would again request a plaza view room with the tiny colonial like balcony and sunlight streaming in.
Intiqa Hotel: We visited this and recommend it as an alternate choice. Rooms were spacious, actually "huge" and it had a modern feel. Nice area for internet use as well.