Customizable Llama Wall Calendar
Llama, Alpaca, and Vicuna in Natural Habitat of Peru and Bolivia
12 months of photos following llamas, alpacas, and vicuna through the Andes Mountains of Bolivia, South America.
Our llama calendar is offered in several sizes and even allows customization. Personalize it to create a special gift for someone's wall. Inside are unique photos of llamas in their natural habitat of South America. Many images come from high in the snow capped Andes mountains.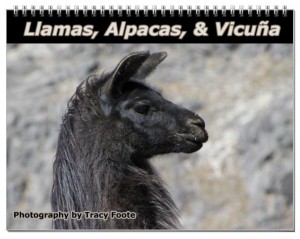 Wild Llamas Wall Calendar
This item qualifies for Free Shipping with Amazon Prime
Check Availability for FREE Shipping on this Llama Calendar – Click Here
or Click Here to Customize this Calendar
Llama Wall Calendar Features
When you travels to Peru, you will find the llamas in the highlands. If you see one at lower altitudes, it's probably there for you, the tourist — to take photos.
You'll see llamas grazing at Machu Picchu, giving you some wonderful photo opportunities. If you stomp your foot on the ground, they will often look up.
Watch out if their ears go back, because they might be preparing a mouthful of spit to project at you. Not fun.
This is a wall calendar hole punched and with a spiral middle. The photographs are on top with the calendar dates on the bottom.
Available in three sizes – Standard, Small, and Huge
(Example: Size 11″x17″ hung on the wall has pages that measure 11″ x 8.5″)
Full bleed high quality dynamic color printing,
100 lb cover weight high gloss paper, wire-o bound,
January – December or choose your own optional start and end dates,
Preview of the following year,
Choose from 13 unique styles for dates and holidays
Wire-o binding in 7 different colors.

Bulk Quantity Discounts

begin upon ordering 2 or more calendars
Llama Wall Calendar – Month Descriptions
January: Llama at Sajama mountain, Bolivia
February: Llama on plains with Illimani in the distance
March: Llama profile taken at Sacsayhuaman ruins outside Cusco, Peru
April: Three llamas, two brown and one white taken near Laguna Colorado, Bolivia
May: Vicuna, another type of cameloid, taken in the Sajama area of Bolivia
June: White llama by the lagoon on the road to Huayna Potosi mountain, Bolivia
July: Alpacas from the plains surrounding the Bolivia Salt Flats
August: Alpaca herd grazing in Bolivia
September: Llama pack train, carrying gear through the Cordillera Real Mountain Range, Bolivia
October: Llama train coming across a high peak.
November: Alpaca profile photograph, taken near the border of Chile and Bolivia
December: Baby llama nursing with its mother along the path into the Laguna Chiar Khota Condoriri
About the photographer
Photographer, Tracy Foote's photos come from six trips through Peru and Bolivia. Her love for nature and hiking comes from her summers spent as a child in the Adirondack mountains. Growing up on the upper West Side of Manhattan, she treasured escaping away from honking cars into the tranquility of the pine trees. Today, she continues to travel and encourage others to explore and preserve the environment.
See inside this calendar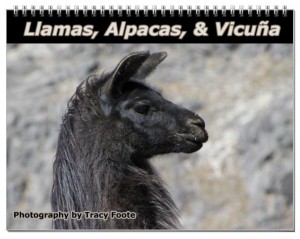 Llama Calendar
This item qualifies for Free Shipping with Amazon Prime
Check Availability for FREE Shipping on this Llama Calendar – Click Here
or Click Here to Customize this Calendar
Artistic Llama Painting Calendar
If you're looking for llama drawings, llamas on farms, watercolors, paintings, or an artistic llama calendar, try this one:
More llama Gift Ideas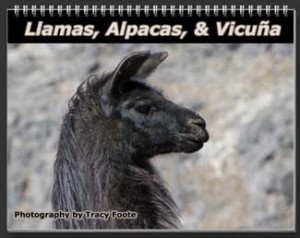 Please Pin this Image