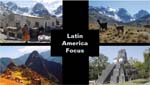 Latin America Focus was begun in 2011 to encourage educated discussions about travel in South America.


About Latin America Focus Photography
I spent my childhood summers at camp in the Adirondack Mountains in upstate New York where I developed a love of nature, the outdoors, and mountain climbing.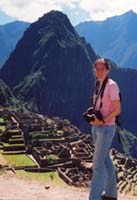 My enthusiasm for conservation grew as I traveled and explored many Latin America ruins. Using my photographs and writing, I hope to inspire enthusiasm for travel and the preservation of the surrounding historical environment. I shoot with both the Canon EOS ELAN 35mm camera and the Canon t1i.
This site began from the desire to share the love of travel along with exploration and appreciation for the outdoors, with a focus on Latin American countries.
The first project was a collection of photographs from Machu Picchu and the surrounding mountains published in the book, Let's Go Up!. Our passion for travel, photography and the outdoors evolved into the start-up of the Latin America Focus website.Author on Google+
---
Copyright Permission
All images on this site are copyright protected.
---
How to Subscribe
---
Link to Latin America Focus
If you found this educational site helpful, please consider showing your appreciation by linking to us.
---
Privacy Policy for Latin America Focus
Site Links – Affiliate Disclosure:
When connecting you with valuble information, products, or organizations, if they have an affiliate program, we try to participate. This small commission helps keep this site running.
The privacy of our visitors is important to us.
At Latin America Focus, we recognize that privacy of your personal information is important. Here is information on what types of personal information we receive and collect when you use and visit our site, and how we safeguard your information. We never sell your personal information to third parties.
Cookies and Web Beacons
We do use cookies to store information, such as your personal preferences when you visit our site. This could include only showing you a popup once in your visit, or the ability to login to some of our features, such as forums.
We also use third party advertisements on Latin America Focus to support our site. Some of these advertisers may use technology such as cookies and web beacons when they advertise on our site, which will also send these advertisers (such as Google through the Google AdSense program) information including your IP address, your ISP , the browser you used to visit our site, and in some cases, whether you have Flash installed. This is generally used for geotargeting purposes (showing New York real estate ads to someone in New York, for example) or showing certain ads based on specific sites visited (such as showing cooking ads to someone who frequents cooking sites).
You can chose to disable or selectively turn off our cookies or third-party cookies in your browser settings, or by managing preferences in programs such as Norton Internet Security. However, this can affect how you are able to interact with our site as well as other websites. This could include the inability to login to services or programs, such as logging into forums or accounts.
Remarketing Display Advertising
We use third party vendors, including Google to display our ads on sites across the internet.
(Acknowledgments: Some text for this Privacy Policy was suggested by JenSense.)
---