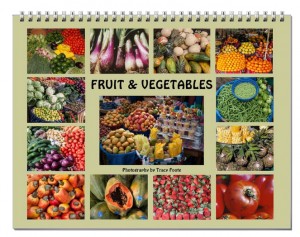 2020 Fruit and Vegetable Calendar
This item qualifies for
Free Shipping with Amazon Prime
Check Availability for FREE Shipping – Click Here
or
Click Here to Customize this Calendar
Photographic Descriptions by Month
January: Bolivian Market of onions, tomatoes, and squash
February: Close up of bright red onions
March: Guatemalan Market of melons and pineapple
April: Gorgeous orange/yellow mix of clementine, tangerines, and oranges
May: Go Green! Healthy green beans, peas, and squash
June: Pineapple to make your mouth water – fresh sliced, surrounded by ripe fruit
July: Deep red tomatoes to celebrate summer
August: Strawberries stacked in an artistic tower. Let your toddler count how many are there!
September: Rich orange papaya contrasts with jet black seeds may make you think of beaches and dancing.
October: Name this fruit! Red, orange, and olive green ~ have you seen it before?
November: Colorful vegetable mix for cooks, vegetarians, vegans, and other health minded chefs.
December: Lettuce, Broccoli, Cauliflower, Limes, and Potatoes – what would you make?
2020 Fresh Produce Calendar
Features:
Our Calendars have a variety of options:
Available in three sizes – Standard, Small, and Huge(Example: Size 11″x17″ hung on the wall has pages that measure 11″ x 8.5″)
Full bleed high quality dynamic color printing,
100 lb cover weight high gloss paper, wire-o bound,
January – December or choose your own optional start and end dates,
Preview of the following year,
Choose from 13 unique styles for dates and holidays
Wire-o binding in 7 different colors.

Bulk Quantity Discounts

begin upon ordering 2 or more calendars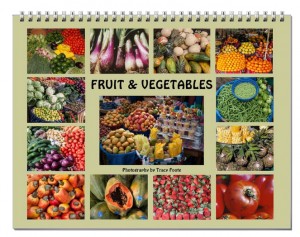 2020 Fruit and Vegetable Calendar
This item qualifies for
Free Shipping with Amazon Prime
Check Availability for FREE Shipping – Click Here
or
Click Here to Customize this Calendar
Other Gift Ideas for Photographers
The following two tabs change content below.
Latin America Focus
This site inspires enthusiasm for travel, wildlife, the outdoors, and preservation of the surrounding historical environment. My love of travel comes from camping in the Adirondack Mountains and trips with my grandmother as a child. My favorite South America countries are Bolivia and Peru; my favorites of Central America: Guatemala, and Mexico. Entrepreneur | Writer | Author | Photographer |
Tracy Foote on G+
Latest posts by Latin America Focus (see all)