Review of Hostal Dion
Hotel Dion lies just a stone's throw from the Central Plaza of Chulumani.
Passing through the entrance foyer, you will be surprised by a tropical courtyard overhung with lush banana plants.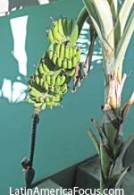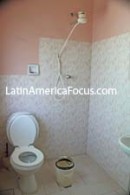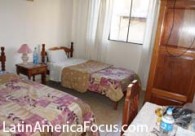 Here and above are adequate screened rooms, a television, and private or shared bathrooms.
Breakfast is served just outside the owner's kitchen. She may also be serving her delightful family in the adjacent room.
Fresh juice, coffee or tea and delicious daily rolls topped off with local cranberry jam fill you sufficiently for a challenging hike down to the river or climb to a lookout.
Hostal Dion Reservation in Chulumani
Contact Sra. Dora Aliaga at telf: Chulumani 2896034 or La Paz: 2720366
Rates: $50Bs single room; $70BS double room and breakfast is included.
We had some concerns about not having reservations ahead of time, but she has quite a few rooms and there are so few tourists who travel to Chulumani anway, that I think your chances of finding space will always be good.