How long is the bus ride from La Paz to Chulumani?
My friend and I settled into our seats, awaiting the bus departure to travel to Chulumani. We noticed a TV at the front of the bus and hoped the driver would not play a movie. Views are so much more enjoyable without the distractions of dialogue.
The front of the bus was enclosed, with a middle door entering the driver's area, similar to the pilot entrance on a plane. The door opened and a man around fifty years old announced something to all passengers. We only caught a few words, "wait – eat – fish." My friend thought we would be stopping to eat fish, but we had asked for a 'direct' bus, so I guessed we must be waiting for a passenger to finish eating fish before we'd depart.
Out the window I saw a boy, perhaps a teenager, begin to close the under-storage side doors of our bus. It's common in Latin America for young kids to sit up front and assist drivers. With this sign of imminent departure, we didn't ask questions but remained in our seats.


The bus began to climb a road out of La Paz, who's elevation ranges from 9,840 ft to 13,450 ft. It would travel up higher through an area called La Cumbre (elevation 4,660m/15,290-ft) before the drop down into the South Yungas jungle. (Total trip estimated to take just over four hours.) We reached a checkpoint where the street was lined with women selling drinks and snacks. Transactions occurred quickly through the windows and the bus moved on.
We had excellent seats. I had full control of opening and closing my window, which is not only important for photos, but also some fresh air, or in the worst case, serves as a place to poke out your head and empty your queasy stomach (as the young boy to our right would later demonstrate).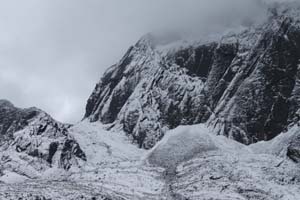 During the first hour of the drive, we were shocked to see the mountains surrounding La Cumbre dusted in snow. It was July. A year ago, in June, we had passed through the same location with no sign of snow or even a speck of ice. Both views are breathtaking.
At 2 p.m., an hour into the trip, we pulled off the road – for FISH!
(Rest stop view from one end)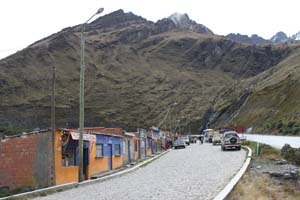 (Rest stop view from the other end)
I suppose this is good information – a rest stop to eat fish along the way – if you ever drive a personal car, but our aim was to get to Chulumani before dusk. It's never a good idea to arrive at a new place after dark. Everything becomes more complex: hotels, dinners, and safety; plus you are usually exhausted which limits your tolerance for any glitches.
An hour of "fish" would still have us arrive timely, so we weren't too upset. (Not to mention, we had only arrived from the US at 9 p.m. the night before so a day of leisure would allow our bodies to adjust to the altitude.)
With mostly families on the bus and our money in our possession, we felt safe enough to leave our packs and disembark for some fresh air and a few photos of the mountains towering over us.
It wasn't until we got back on the bus that I learned why the driver had stopped here for fish. The road was closed up ahead, closed until 6 p.m., and it was more comfortable to wait here.
Alas, the stars would be shining when we arrived in Chulumani.
~ Hopefully, you will get there quicker!
You might take along:

The following two tabs change content below.
Latin America Focus
This site inspires enthusiasm for travel, wildlife, the outdoors, and preservation of the surrounding historical environment. My love of travel comes from camping in the Adirondack Mountains and trips with my grandmother as a child. My favorite South America countries are Bolivia and Peru; my favorites of Central America: Guatemala, and Mexico. Entrepreneur | Writer | Author | Photographer |
Tracy Foote on G+
Latest posts by Latin America Focus (see all)