Chulumani Road:
The road from La Paz, Bolivia, to Chulumani in the South Yungas is described ominously by guide books as having "death drops."
The road passes through La Cumbre and then climbs reaching a fork, where the bus makes a right hand turn and begins a plunge into the jungle below.
I have faith. I have faith in God, but also faith in those meant to take care of us. I believe a doctor will cure me, a fireman will come in time, a pilot will land the plane safely, or a friend will return from the war. You just can't live thinking anything else. I fully believed this driver would maneuver this bus safely, because after all, he doesn't want to die either.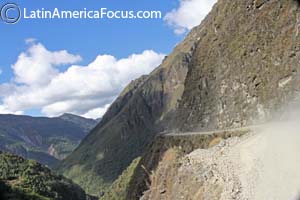 But sometimes faith becomes a little difficult. Like when you feel a bowed head press into your seat from behind, and whispered prayers pass through the cushion; this did not help my serenity.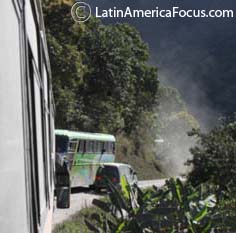 I'm not sure why the road to Coroico in the North Yungas, tops the Chulumani road to claim the title, "The Most Dangerous Road in the World." I read somewhere that Coroico claims more deaths, so perhaps that is the measurement used. Having traveled both, I can tell you the road to Chulumani is much more nerve-wracking.
The Chulumani road still uses big busses, whereas the famous old Coroico road is mostly traversed by tourists on bikes. (A new road to Coroico runs minivans.) The Chulumani busses have under-storage, as opposed to the older method of tying bags on top. Passengers climb three deep steps up to their seats. These elevated views embrace cliff edges, and feeling the rounding curves at high speeds can be downright scary.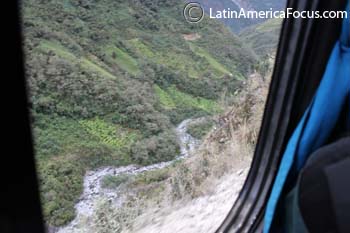 (Edge of the road/river view from the bus window)
When my friend's fingers dug into my arm and she declared she couldn't do it, I said, "Neither can I, if you continue to grab me every thirty seconds." I don't think she liked my attitude and was silent the rest of the ride. I only stole a few glances at her lest her face would unsettle my own nerves.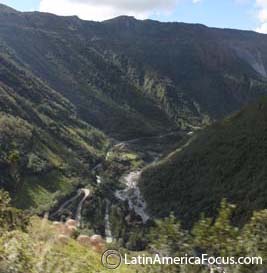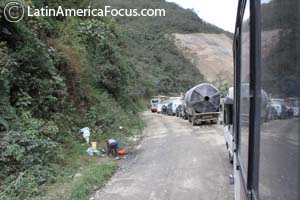 My faith in the driver allowed me to focus on my photos and enjoy the ride. After about an hour, we descended quite a bit and arrived at a road closure for a three-hour wait. Evidently workers were clearing a landslide. Monday through Saturday, the road was closed during work hours. Why they could not let a few cars through every now and then is beyond me.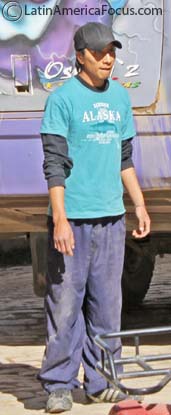 I opened the window for fresh air. Sitting on the left side, I saw the driver get out. I was shocked to see the young kid who had closed the under-storage doors at the start of our trip. This kid, who I originally thought was the driver's helper, was obviously older since he was the one handling this bus.
"You probably don't want to see who's driving this bus," I told my friend.
The road opened at dusk, and we headed into increasing darkness on the remaining three hour push to Chulumani. I combined my faith in the driver along with a few prayers to God – thinking the mix certainly couldn't hurt. Our lives were clearly in their hands.
You might bring with you: