Travel to Machu Picchu
There are ways to travel light. Check out our Peru Travel Items for the minimal list of what you need (assuming you are not climbing snow peaked mountains)!
Peru Rail offers many options by train to Machu Picchu Pueblo (formerly called Aguas Calientes) departing from either Cusco or Ollantatambo. The Hiram Bingham is the most expensive where a meal is served, the Vistadome train has windows in the ceiling, the Backpacker train is less touristy with no snack included, and it is also possible to ride the local train but you must pay the "tourist" price.
Prices vary depeding on the type of train and time chosen to travel but a good estimate is $40-60 US for the cheaper trains.
You may also be interested in Let's Go Up a book about climbing Putucusi mountain in Peru.
Here is a pretty good Sacred Valley Map of the area surrounding Cusco, showing Chinchero, Ollantaytambo and other cities.
Where to Stay In Machu Picchu Pueblo (Aguas Calientes)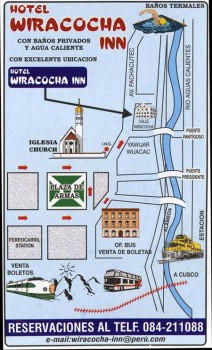 When planning your travel trip to Machu Picchu, consider our favorite place to stay: the Hotel Wiracocha Inn in Aguas Calientes.
This is a simple hotel with all the necessities at a decent price. You can efficiently make all hotel arrangements by internet and pay on arrival. If it is your first time, head out of the train station and up hill (large map view).
Once you are through the market, keep going uphill along the river and the hotel will be on your left.
They are constantly expanding and updating the hotel. We prefer the rooms along the river with the great big windows and avocado tree outside.
Bathrooms are fairly small, only cold water in the sink, but this was the best shower we had in Peru which is very important after a day of climbing! The rooms are very basic, especially clean, and have excellent lighting over the beds for reading.
When traveling in Peru, breakfasts vary. Here breakfast includes a roll, butter, jam, fruit, cheese, meat, juice, and tea or coffee. For dinner try pizza at Chez Maggy around the corner.
Alfredo, who was usually working the front desk, was always cheerful and helpful. Buy your water bottles here at the hotel for the best price.
For those with late departures out of Machu Picchu, they have a safe secure place to hold bags and a bathroom to use if needed. The owner Gregorio ensures all questions are answered and will do anything he can to arrange a pleasant stay.
Getting to Peru and Where to Stay
Machu Picchu by train
Wiracocha Inn in Aguas Calientes
What to do in Aguas Calientes (Machu Picchu Pueblo)
Visit Machu Picchu Ruins: Once you arrive in Machu Picchu Pueblo, you must purchase both a bus and a ruins entrance ticket.BUS: In 2009 the cost of the bus from Aguas Calientes (round trip adult price) was US $14 You are able to purchase the ticket a day ahead so you are ready for the early am bus. (However, in 2009, in the early hours, the locals lined everyone up regardless of whether or not you had a ticket (very annoying) so you are mixed in with those still needing to purchase a ticket, slowing everything down. Efficiency? NOTE: There is also a booth along side the river just up from the location of the buses that sells tickets if you want to send your companion to purchase them while you wait in line. RUINS ENTRANCE: You need an additional ticket for entrance after the bus ride. When traveling in Peru in 2009, you purchased your Machu Picchu Ticket "behind" the location of the bus ticket sales. This means walk down the road, up to the square, up a side street (in effect making a "u" to reach the location of the entrance tickets. You MUST pay in SOLES. In 2009, the cost was $124 (adult price Machu Picchu ticket) for a ticket good for 1 use over three days.
Climb Huayna Picchu
Climb Putucusi Take the non-touristy climb up Putucusi by heading down the train tracks to Km 111 and begin climbing for a unique view of the famous ruins. Let's Go Up! a photographic book gives you a visual journey of this climb, excellent idea of what to expect.
Climb Machu Picchu Mountain
Walk to the Inca Bridge (Inka Bridge)
Climb to Intipunku (Sun Gate)
Visit The "Banos Thermales" – Walking up hill you will suddenly begin passing stores selling swim suits, flip flops, and offering towel rentals. Shortly after, you reach the entrance to pay a fee. We were able to pass explaining we only wanted to look and not actually bathe but I don't know if this was an exception he made or if you are always permitted to do this.
Hike to Mandor Waterfalls "Mandor Cataratas" – Travel down the train tracks and you will pass the old train station "Puente Ruinas" and be surrounded by wonderful foliage and if you are lucky, birds with brilliant colors. The waterfall will be after a short hike through a banana plantation. The water comes from Yanantin Mountain is actually fairly small. Allow 45 minutes from leaving Aguas Calientes to arrive at the falls. Keep in mind darkness comes early so be sure to allow time for a safe return.
Manuel Chávez Ballón Site Museum / Museo de Sitio Manuel Chávez Ballón: travel along the train tracks toward Mandor Waterfalls and you will reach the museum with botanical gardens across the way
Winay Wyna or Huinay Huayna water falls: Huge waterfall in the area, accessible by hiking the Inca Trail or possibly. Rumor has it you would be able to "see" the falls at km 122 (or is it 104?) a two hour walk along the train tracks (we have not verified this).
Hike the Inca Trail (We met travelers who highly recommended Wilderness Travel
History & Facts – Prepare before you go
Machu Picchu was discovered by Hiram Bingham a researcher from Yale. He eventually escavated the site along with a team that included naturalist Harry Ward Foote.
In 2007, Machu Picchu became one of the 7 Wonders of the World and there a numerous other
interesting facts to read before your Peru travel trip to Machu Picchu. If your passion includes gaining knowledge of the ruins or perhaps you would like to know more about the Inca Trail by reading experiences of others. by viewing Amazing photos from Tom Dempsey. People are even Running the Inca Trail these days.