Guatemala Volunteer Opportunities Give Me a Unique Perspective
I had always been curious about Guatemala. Typically for me, the fascination began with the photographic opportunities. I envisioned beautiful people in colorful clothes, Volcanoes, and Mayan historical sites.
A friend had been telling me about volunteering in Guatemala for years, and in 2007 I took my first trip. At the risk of writing a spoiler, I have begun bringing friends and family along and am planning my fifth trip.
The focus of our journey is to support the nonprofit Cooperative for Education (CoEd). As a member of a Rotary (service) Club, I was impressed with the sustainable program design of CoEd's textbook, computer center, and reading programs as well as their commitment to education for rural students.
While visiting the programs on CoEd's volunteer semi-annual Project Tours, I had opportunities to go to places in Guatemala that tourists can't normally reach — culturally rich places where the people primarily speak one of 21 distinct Mayan dialects and dress in regional clothing (the women in elaborately embroidered huipils).
On Project Tours, a group of North American volunteers travel between villages in the primarily Mayan, and often very poor, Western Highlands of the country. We participate in "inaugurations" of programs in schools.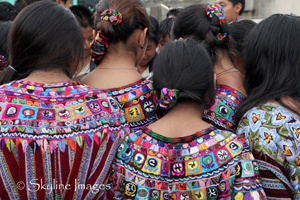 Opportunities include a typical half-day in a village with an enthusiastic musical welcome from the students (everyone is there, from babies to the elders) to the elaborately decorated school. There are signs, balloons, and pine needles are strewn on the floor as a sort of Guatemalan "Red Carpet." We bring books, sporting equipment, and supplies. There are ceremonies and speeches. As my Spanish language skills get better, I sometimes even venture to give a speech in Spanish. The students will have prepared a performance for us and later we're free to make new friends. "Convevencia," as this time is called, includes playing soccer or showing pictures from our homes for example. My husband learned some magic tricks, which were a huge hit with the kids. After an hour or so of playing, which never feels like enough, we say our goodbyes.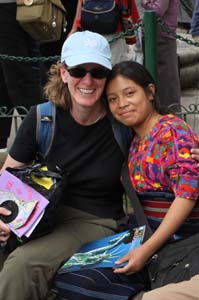 During the week we visit two schools each day. On weekends we're exploring other parts of the country.
My husband and I also participate in COED's Scholarship program, and have sponsored Florentina for three years. She is finishing up middle school (Basico) and plans to go on to Diversificado to study accounting. Each time we visit, we are able to spend several hours with her, catching up on her life and laughing with her as she tries to teach us a few words of her native dialect. Volunteer opportunities like this are beyond description.
Guatemala is a strikingly beautiful place; a playground for a serious photographer. There are 29 volcanoes (3 active), the highest of which is nearly 14,000 feet in elevation. Lake Atitlan, which is consistently labeled one of the most beautiful lakes in the world, is surrounded by volcanoes and dotted with Mayan Villages.
Antigua Guatemala, the historic territorial capital, is picturesque and irresistible. The city is known for cobblestone streets, brightly painted historic buildings, and coffee plantations (Fincas) along the slopes of nearby volcanoes. City and Coffee tours as well as zip-line jungle tours and volcano hikes are popular diversions. Antigua is a common destination for Spanish language immersion schools. I've returned several times to my favorite, San Jose El Viejo, built among the ruins of one of Antigua's over 50 churches (ranging from ruins to fully functional). The local joke is that a town with so many churches must be full of sinners.
The opportunity to be of service and the wonders of Guatemala make this the ideal vacation for me.
Guest Post
Submitted by Rebecca Wilks, Skyline Images
See also:
CoEd Volunteer program
San Jose El Viejo Language Immersion Program
You may also like:
Study Abroad Fundraising Idea
Village Assignment: True Stories of Humor, Adventure, and Drama in Guatemala's Highland Villages by Dave Huebsch stirs the hearts of readers with a remarkable series of 78 sensational stories on the struggles of the powerless to rise from the crushing grip of poverty.