Where to get the cheapest passport photo taken?
Before you decide on your passport photo location, call around – you may save yourself some money, especially if you are purchasing Visa or passport photos for the entire family.
A quick check of passport photo locations (in 2012) shows a cost of:
Passport Photo at the Post office:$15 for two photos
Passport Photo at Walgreens: $9.99 for two photos
Passport Photo at CVS: $9.99 for two photos
Call Ahead:
Call ahead to be sure the technician will be available and the camera is not broken. (Don't laugh, this has happens!)
Sometimes your CVS or Walgreens passport photo locations are open 24 hours which might be a big help to take last minute photos when your schedule is tight.
You can get a cheap passport photo by checking online for coupons. You can often save with a $2.00 off CVS coupon, bringing your cost down to $7.99 per person. You can print one coupon for each family member, but be prepared for each member to pay separately at the store.
This brings the cheapest passport photo cost to $7.99 (in 2012).
Passport Case Holder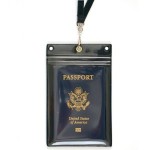 My preference is a simple holder or case for your passport, but they make fairly nice leather holders as well. The leather will be a little thicker and more durable over time but it adds bulk and weight to your bag, jacket pocket, or purse.
The StoreSMART® Sport – Zipper Passport Holder with Lanyard will keep your passport dry and has the added neck cord feature for security. The case can also hold other items such as a phone, Ipod, keys, or money so you may want to purchase extra holders.
Use the comments to tell us your passport photo tip or share your favorite passport case holder.
More items for travelers: