Bolivia Visa Application:
U.S. Citizens need a tourist VISA to enter Bolivia.
A casual friendly comment of: "It's not fair that you only charge U.S. citizens and not everyone else" was met with a swift response of, "Well they didn't try to kill our president!"
This ended all further discussion, but I made a mental note to Google U.S. Bolivia assassination to brush up on my international relations history. (I've also heard the reason behind the U.S. Bolivia Visa requirement is simply because "The U.S. charges Bolivians a fee to enter the U.S.A." – another accusation in need of verification.)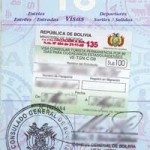 You can apply for the Bolivia tourist VISA by mail or in person at any Bolivian Consulate in the United States or you can apply for your VISA at the border crossing or ports of entry (airport or boat). The Bolivia entry Visa is a sticker placed in your passport, signed, and stamped by the Bolivia Consulate representative.
Friends have told me it is easy to obtain at a border entry. After all, are they really going to put you back on a plane?
Still, I obtained my VISA in advance so I would have one less item to think about. The Bolivia Tourist Visa used for entry is valid for five (5) years.
For the Bolivia Visa application U.S. citizens will need:
a passport valid for at least six months from the date of your proposed entry into Bolivia.
A separate 4×4 passport color photograph
Proof of invitation: A letter of invitation to Bolivia or Hotel and airline reservation receipts showing your itinerary
Fee: Application amount of $135 U.S. Dollars in cash, money order or proof of deposit made to the Bolivian Consulate's bank account. NOTE: When paying at the border, this must be in cash.
Processing fee: Possibly a processing fee in the amount of $10 U.S.
International Vaccination Certificate for yellow fever – only if you are entering the Beni area
Signed application: Bolivia Visa Application pg 1 and Bolivia Visa Application pg 2
Possibly: proof of economic solvency such as credit card, cash, or a current bank statement (but in my experience, this has not been asked for)
Possibly: police letter of good conduct (but in my experience, this has not been requested)
The U.S. Tourist Visa for Bolivia allows you to enter the country three times per year for not more than 90 days and expires 5 years from the date of issuance.
We have this little joke that we have to go to Bolivia every year because our Visa terminates in 5 years. Time is running out!
Of course, this makes no sense to spend thousands in travel expenses to take advantage of a $135 Visa. But, it is a nice excuse (not that we need one) to choose Bolivia over other countries.
Have you recently crossed into Bolivia? Add your tips to the comments area to help other travelers.
Other things you might need for your trip:
[bannerzon align="left" banner_id="4847″]