DIY Passport Photo
After you see your pharmacy or other location create your passport photo, you may wonder why you didn't just Do It Yourself (DIY).
When you see how the technician makes the passport photos by printing 6 images on a 4×6 print, cutting out two and tossing the rest away (that's right, the stores won't let you keep the extras), it's easy to imagine that you could just make your own passport photo.
Digital passport photos are not rocket science. Once you learn how to make your own passport photo, you may wonder why you ever paid for this service.
Passport Photos Online
However, answer these questions before you decide to create your own passport photo:
Do you have the time? Not only do you have the time to take, print, and cut a proper digital photo, but do you have the processing time? Do you have the time to re-do (re-shoot) the photo if for some reason the passport agency rejects it?
Do you have the skills? Do you know how to use a digital camera and software editor to properly produce the photo?
How much are you really saving? We've discussed cheap passport photos, as low as $7.99. Doing it yourself, perhaps will cost you $2.00 along with your time. So your savings is really about $5.99. Is $5.99 worth the time and trouble to make your own?
REMEMBER: If you create your own photo, no touch up allowed. Do not remove spots, blemishes, freckles, etc.
If you want to create your own photo, you might try an online passport photo service like ePassportPhoto. Taking your own digital passport photo is the closest thing you can get to a free passport photo. If every penny counts, you might try this route.
Free Passport Photo – Video "How to…"
Passport photo for free! ePassportPhoto.com revolutionizing passport photos
More Information on Passport Photos
U.S. Department of State Passport Application.
Find a passport application acceptance location near you.
Passport Photo Security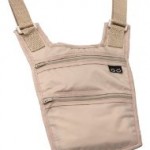 When you're looking for a secure passport holder, try the over the shoulder passport holder wallet.
More for your trip: