Alien Skin Image Doctor 2 Review
Image Doctor 2, Image Repair Plug-in Software for Photoshop
Alien skin Image Doctor 2 is a plugin that assists your photography editing in five areas:
Blemish Concealer
Skin softener
Dust and scratch remover
Smart Fill
Jpeg repair
The installation of Image Doctor 2 was quick and easy.
I found a getting started with Image Doctor Tutorial that was easy, well written, and I was off and running in less than ten minutes. (I didn't see any "How to get started" file with the plugin or on the download website.)
Dust and Scratch Remover Test
The first thing I tried was cleaning up black lines on some slides I had scanned using VuPoint Solutions Digital Film and Slide Converter (which you can't beat for the price when you want a decent job for slides or film you just want to preserve or print at 4×6).
This particular scan caught a thread of some sort on the slide and created a distracting black line across the blue chair.
Using the Photoshop plugin, I easily removed this line.
The basic process for the image editing features is to create a selection and then apply the filter. With the black lines going across the blue chair in the image below, I created a selection, and clicked Filter> Image Doctor > Dust and Scratch Remover and in seconds the line was removed.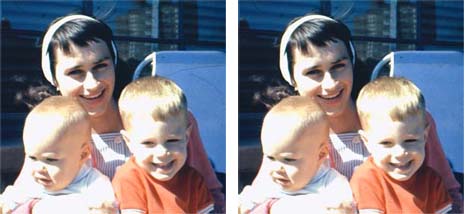 Skeptical? You might be skeptical. After all you can just clone some color along the black line and create a similar result. However, that will take more time, and this is what Image Doctor is about saving you time
Smart Fill Test
My main interest in Image Doctor was the Smart Fill. This feature can help you remove power lines, roads, garbage cans, and so forth from images. The filter is "smart enough" to pull surrounding areas in attempt to create a seamless merge. And, if the filter needs a little help, there is an outline box that you can drag around the image to tell the filter, "Please pull from this area" when filling in the removed object.
I chose another old slide with two boys in the ocean, used the lasso tool to do a very quick outline selection, chose Filter > Image Doctor > Smart Fill and the boy disappeared. I did not like the first "automatic" guess, so I changed the setting to Manual complex background and adjusted the sample box until I was pleased with the result. (There are also more advanced features to specify your selection for an even more seamless merging of pixels.)
Conclusion
I would highly recommend Alien skin Image Doctor 2 . It was easy to install, very user friendly (with the how to get started tips), and has great potential to save hours of editing work.
Photographers also use: