Pintermark Review
Pintermark Plugin Options
UPDATE Pintermark still has the options discussed, but we've moved forward to using Pinterest Autoposting software that can also do Watermarks. Read both articles and decide the best fit for your business. Read about the software here.
All these choices can be turned on or off:
Image Alt Text: Image alt text still appears when you scroll over with a mouse. ("Challenges working from home" is the image alt text.)
Pinterest Hover Button (Scroll over pop-up): You can adjust the location of the optional "Share-it Pin-it" image that appears when you scroll over with your mouse. You have numerous choices for this pop-up scroll over image.
Watermark – Copyright Protection: Your url or photographer name can display on the image and this will carry over to Pinterest. You can customize your choices PER IMAGE. For example, you might watermark a different photographer's name on different images in a gallery or for a guest blog post. Even though the watermark seems to have issues, the plugin is still valuable for the pop-up feature reminding visitors to pin.
Follow me on Pinterest: Optional button to appear below the image
Pin-it Button Counter: Optional button to appear below the image
Customize or Add Your Own Button: Included is a Pintermark library of 25 pin-itbutton choices in PNG and PS format. You can even customize these, or use your own button.
Description Auto-population: Your description will travel with the image over to the Pinterest website
Protecting your photos and posting them to Pinterest becomes easy. Here's a sample image captured with all the features shown: the website watermark, pop-up hover "Share it" option, image Alt text showing, pin-it count, and follow me option. (Most likely you would not have all these features turned on at once. It would be too busy for your viewer. But, they can be customized on a per image basis.)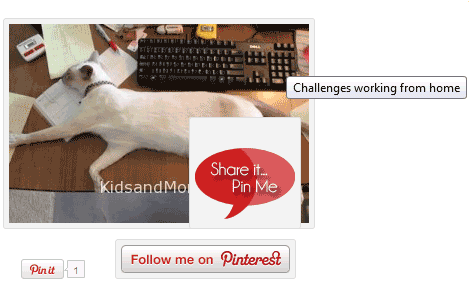 Pintermark is the best Pinterest WordPress Plugin I've found.
Timely Support: Any questions I had were answered within 2-24 hours.
Reasonable price: ~ Don't waste time looking for FREE plugins. Instead focus on what works well. Take a look at the Pintermark: click here.
Photographers in business might also consider:
The following two tabs change content below.
Latin America Focus
This site inspires enthusiasm for travel, wildlife, the outdoors, and preservation of the surrounding historical environment. My love of travel comes from camping in the Adirondack Mountains and trips with my grandmother as a child. My favorite South America countries are Bolivia and Peru; my favorites of Central America: Guatemala, and Mexico. Entrepreneur | Writer | Author | Photographer |
Tracy Foote on G+
Latest posts by Latin America Focus (see all)