Traveling to Machu Picchu
Subscribe to us on YouTube
Machu Picchu ranks high on my list of favorite places in the world.
My passion is to visit non-tourist locations where you might feel so alone that you can imagine – you are the one discovering this place. Machu Picchu ruins don't quite fit this description, unless it is the rainy season or you steal away on a back path to find a moment of solitude, so it's an exception on my list.
Machu Picchu celebrated its centennial anniversary in 2011, 100 years after Hiram Bingham re-discovered the site on July 24, 1911.
As much as I love to travel and would enjoy all the celebrations, I expect that the "Machu Picchu 100 Anniversary" was more crowded than ever. Hoards of tourists do not appeal to me.
I remember Monte Alban ruins in Oaxaca, Mexico, circa 1985. I ran amongst the ruins with my brothers. The elder one, with the sense of humor, found an underground pathway and suddenly hands had come through a grate at our feet yelling, "Estoy muerto! Ayuda me!" (I'm dead, help me!) The indigenous people nearby laughed.
Today these Monte Alban ruins are roped off. My memory is a moment in lost in time – impossible to reoccur.
I've a desire, a self-inflicted pressure to travel to places like these before they change, to get there before the hoards of tourists arrive, and before the authorities begin charging fees, rope them off, or even worse close them to the public.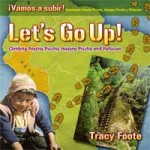 Of course these experiences must be shared. It's only our imagination that lets us feel like we're discovering them, and when I published my photography book on Huayna Picchu and Putucusi, I knew it was but a speck in the unstoppable, changing tourist road.
Here are some designs from my trips to Machu Picchu:
History
Sticklers to detail are careful to note, Hiram Bingham only re-discovered (not discovered) Machu Picchu on July 24, 1911.
What emotion did the vision of Machu Picchu, cloaked in lush jungle foliage, evoke that day? Was it any different from yours or mine traveling to a new desolate place?
Hiram Bingham discovers Machu Picchu
Machu Picchu facts and history
Harry Ward Foote naturalist traveling with Hiram Bingham
The following two tabs change content below.
Latin America Focus
This site inspires enthusiasm for travel, wildlife, the outdoors, and preservation of the surrounding historical environment. My love of travel comes from camping in the Adirondack Mountains and trips with my grandmother as a child. My favorite South America countries are Bolivia and Peru; my favorites of Central America: Guatemala, and Mexico. Entrepreneur | Writer | Author | Photographer |
Tracy Foote on G+
Latest posts by Latin America Focus (see all)