How to Add a Watermark on Photos for Pinterest Pins
Pinterest Watermark Tips for Photographers
After we told you about photographers on Pinterest, you might be wondering why Latin America Focus doesn't have more images online and more images on Pinterest. (We're working on it…)
One thing that can hold Photographers back from participating on Pinterest is the thought of protecting our work.
It's not a good feeling…
We've experienced photos lifted from our site. It's not a good feeling — seeing your photo on another website with no attribution in the text or links to the original author (site or photographer) can be extremely frustrating. (If you'd like to use any of our photos, we make it easy: contact us through the form on our copyright policy page.)
For blogs, we recommended the Pintermark WordPress Plugin. The Pintermark plugin works well for WordPress bloggers because it will automatically add a watermark to images on your blog. (If this is what you're looking for, you can skip down and read the second half to read the pros and cons. Pintermark is the best we've found so far.)
But, what if you want to pin images to Pinterest that are not on your blog? For example, they are on your computer or cammera disk. Ideally, for Search Engine Optimization (SEO) purposes, you should write a blog post featuring each image and then, pin it to Pinterest. This will bring you the maximum exposure as a photographer. But this takes … TIME.

A solution is to use Mass Planner. Mass Planner is a social media autoposting software that includes a watermark option. To create a watermark, you simply enter text (such as a website, company, or photographer's name) and the software takes care of the rest.
Mass Planner works with Facebook, Twitter, and Instagram too. In general, you can load a group of photos into a queue and the software will drip feed them over to Pinterest so everything seems natural, as if a person did it. If you are familiar with Hootsuite and Buffer, Mass Planner works in a similar manner but also includes the Pinterest platform and actually has many more features than Hootsuite or Buffer. It's an advanced set-it and forget-it system.
Here are some basic features found in Mass Planner for Pinterest:
Autopost pins
Auto Repin pins
Auto Post Flickr pins
Auto-post using RSS feeds
Auto Follow pinners
Auto Like Pins
Auto Comment on Pins
You can start with a free trial: 
Click Here
.
Of course, no social media software system should ever truly be forgotten. We recommend you use the pop-in and pop-out strategy to daily check your Pinterest account.
The best marketing plan would use Mass Planner to schedule the pins so you or your assistant would have more time to both optimize your pins and connect with others. You'll have much more time to research your followers. You'll have much more time to spend taking photographs and time to process them in Adobe Lightroom or Photoshop. Ultimately, this is better for everyone involved. Your followers will see better, high quality image pins from you.
Pintermark WordPress Plugin Review
Pin it Button Challenges
We've looked a long time for a Pinterest WordPress Plugin. We tried a few Pinterest WordPress Plugins. The biggest challenge was the location of the Pinterest Pin-it button:
Some buttons were above, but others were below the actual written blog post itself: This is similar to social media sharing plugins and if  you have one of those installed, why would you add another plugin that does almost the same thing? So, for sure—stay away from this type. You get better interaction with a pin it button right near the image.
Some plugins placed buttons permanently on the image: Not so bad if it doesn't cover something important
Pin it buttons below the image: This must be really hard to code for different WordPress themes and different browsers. It was hit and miss success whether the button will appear in the correct location. Not good to have a floating button two inches away from the image! Pintermark placed a button below, with a counter, and worked across browsers for most our WordPress themes.
Other buttons appear on mouse scroll-over (hover buttons): Good concept. The only concern is if the user doesn't scroll-over. This is the concept used by Pintermark.
Our Favorite Pinterest Plugin: Pintermark
Pintermark has Several Options – Many Features!
All these choices can be turned on or off:
Image Alt Text: Image alt text still appears when you scroll over with a mouse. ("Challenges working from home" is the image alt text.)
Pinterest Hover Button (Scroll over pop-up): You can adjust the location of the optional "Share-it Pin-it" image that appears when you scroll over with your mouse. You have numerous choices for this pop-up scroll over image.
Watermark – Copyright Protection: Your url or photographer name can display on the image and this will carry over to Pinterest. You can customize your choices PER IMAGE. For example, you might watermark a different photographer's name on different images in a gallery or for a guest blog post. Even though the watermark seems to have issues, the plugin is still valuable for the pop-up feature reminding visitors to pin.
Follow me on Pinterest: Optional button to appear below the image
Pin-it Button Counter: Optional button to appear below the image
Customize or Add Your Own Button: Included is a Pintermark library of 25 pin-itbutton choices in PNG and PS format. You can even customize these, or use your own button.
Description Auto-population: Your description will travel with the image over to the Pinterest website
Protecting your photos and posting them to Pinterest becomes easy. Here's a sample image captured with all the features shown: the website watermark, pop-up hover "Share it" option, image Alt text showing, pin-it count, and follow me option. (Most likely you would not have all these features turned on at once. It would be too busy for your viewer. But, they can be customized on a per image basis.)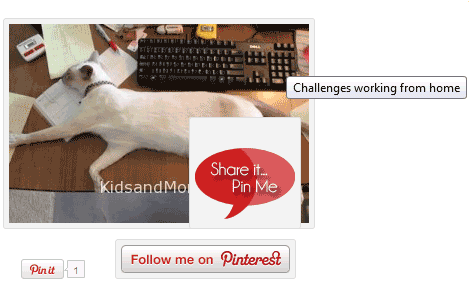 Pintermark is the best Pinterest WordPress Plugin I've found.
Timely Support: Any questions I had were answered within 2-24 hours.
Reasonable price: ~ Don't waste time looking for FREE plugins. Instead focus on what works well. Take a look at the Pintermark: click here.
Photographers in business might also consider:
The following two tabs change content below.
tracytrends
This site inspires enthusiasm for travel, wildlife, the outdoors, and preservation of the surrounding historical environment. My love of travel comes from camping in the Adirondack Mountains and trips with my grandmother as a child. My favorite South America countries are Bolivia and Peru; my favorites of Central America: Guatemala, and Mexico. Entrepreneur | Writer | Author | Photographer |
Tracy Foote on G+
Latest posts by tracytrends (see all)