Huayna Potosi Mountain Video
South America Mountain Calendar
Our 2017 calendar can be personalized to make the perfect gift. If you love escaping to the vast views of snow capped mountains, then you're sure to appreciate the views revealed inside. Check Availability on Amazon.com or customize further by choosing from our links below.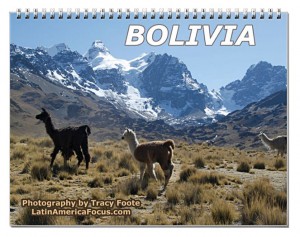 2017 Bolivia Wall Calendar
This item qualifies for Free Shipping with Amazon Prime
Click Here to Check Availability for FREE Shipping
or Click Here to Customize this Calendar
Our 2017 Mountain Calendar is offered in several wall sizes and even allows customization. Find 12 months of unique inspirational photos of Bolivian majestic mountains and glaciers.
January begins with images from Sajama National Park, over to the bordering edge of Chile with views of the twin peaks known as Los Payachatas: (el Parinacota y el Pomerame), through the Zongo Valley to Huayna Potosi and the no longer used Chacaltaya ski lift, to overlooking the Sorata Valleys, and Palca Canyon.
2017 Mountain Calendar Features
Our Calendars have a variety of options:
Available in three sizes – Standard, Small, and Huge(Example: Size 11″x17″ hung on the wall has pages that measure 11″ x 8.5″)
Full bleed high quality dynamic color printing,
100 lb cover weight high gloss paper, wire-o bound,
January – December or choose your own optional start and end dates,
Preview of the following year,
Choose from 13 unique styles for dates and holidays
Wire-o binding in 7 different colors.

Bulk Quantity Discounts

begin upon ordering 2 or more calendars
Buy our 2017 Mountain Calendar
Photographic Descriptions by Calendar Month
January: Llama by Sajama Mountain
February: Hot Water Springs at Sajama Mountain
March: Los Payachatas: Parinacota y Pomerame (Chile's twin mountains viewed from Sajama National Park)
April: Los Payachatas: Parinacota y Pomerame (Viewed through Sajama village church wall)
May: Zongo Valley / Huayna Potosi with snow capped mountain reflection
June: Llamas beneath Huayna Potosi glacier, Zongo Valley
July: Cemetary, Huayna Potosi
August: Zongo Valley snow mountains reflected in a lagoon
September: Chacaltaya Ski Lift Resort
October: Snow mountains above Sorata
November: Cerro Rico Sunset over Potosi
December: Palca Valley canyon
About the Photographer
Tracy Foote's spent her childhood summers at camp in the Adirondack Mountains in upstate New York where she developed a love of nature, the outdoors, and mountain climbing. Her first image of Bolivia was a photograph of a snow capped Chacaltaya mountain. (Global warming has since melted this snow away, but it continues to attract tourist for it's history and magnificent views.) She hopes to inspire enthusiasm for travel and the preservation of the surrounding historical environment using her photographs to create unique gift ideas for those with a passion for Bolivia.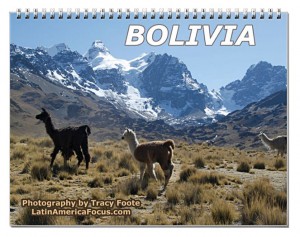 2017 Bolivia Mountain Calendar
This item qualifies for
Free Shipping with Amazon Prime
Click Here to Check Availability for FREE Shipping
or
Click Here to Customize this Calendar
Other Gift Ideas for those who Love South America

Follow our Bolivia, South America Board on Pinterest
The following two tabs change content below.
Latin America Focus
This site inspires enthusiasm for travel, wildlife, the outdoors, and preservation of the surrounding historical environment. My love of travel comes from camping in the Adirondack Mountains and trips with my grandmother as a child. My favorite South America countries are Bolivia and Peru; my favorites of Central America: Guatemala, and Mexico. Entrepreneur | Writer | Author | Photographer |
Tracy Foote on G+
Latest posts by Latin America Focus (see all)